KURAYOSHI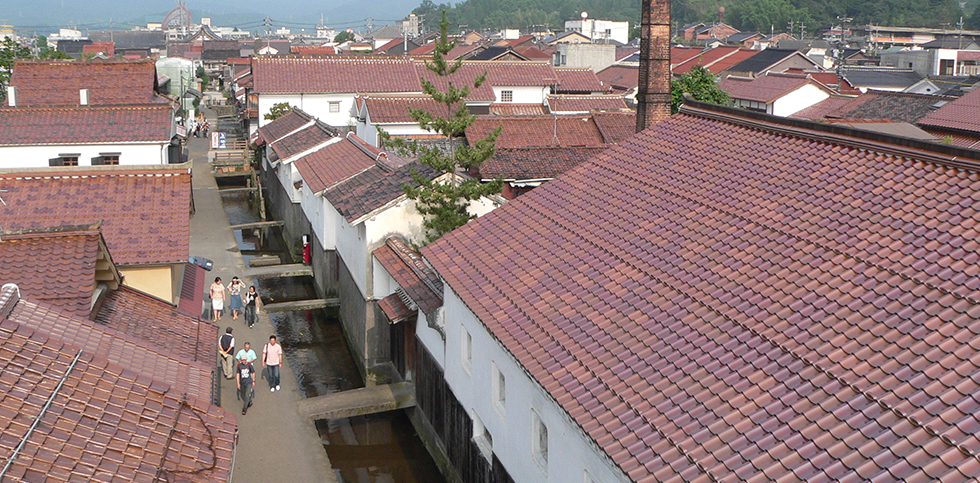 Kurayoshi Shirakabe Dozogun, Akagawara
Along with the Tamagawa River, standing in neat rows, the Shirakabe Dozogun buildings were mostly built in Edo and Meiji periods around 1600s-1800s, and the area is designated as Important Preservation District for Group of Traditional Buildings. Here is one of the most popular places in Kurayoshi City for sightseeing among not only domestic visitors but also foreigners. What makes lots of visitors come here is its traditional and unique scenery. Stone bridges over Tamagawa River, plastered white walls, and akagawara red roof tiles – contrasting the colors create this scenery of a peaceful Japanese townscape. In addition to the scenery, delicious foods and traditional handicrafts attracts the visitors even more. Dango (sweet rice dumplings), taiyaki (fish-shaped cakes), shoyu (soy sauce), sake – a variety of delicious foods are waiting for you in Shirakabe Dozogun. You can also enjoy traditional crafts making such as Hakota dolls, Kurayoshi-Ika (traditional kites) and pottery, which you can experience only here. Why don't you come Shirakabe Dozogun to stroll the amazing historical streets?
Address:
2568 Uo-machi, Kurayoshi City (Kurayoshi Shirakabe Dozogun, Akagawara Tourist Information Center)
Access:
by car: 12 minutes from Kurayoshi Station
by bus: 12 minutes from Kurayoshi Station, operated by Nihon Kotsu and Hinomaru Jidosha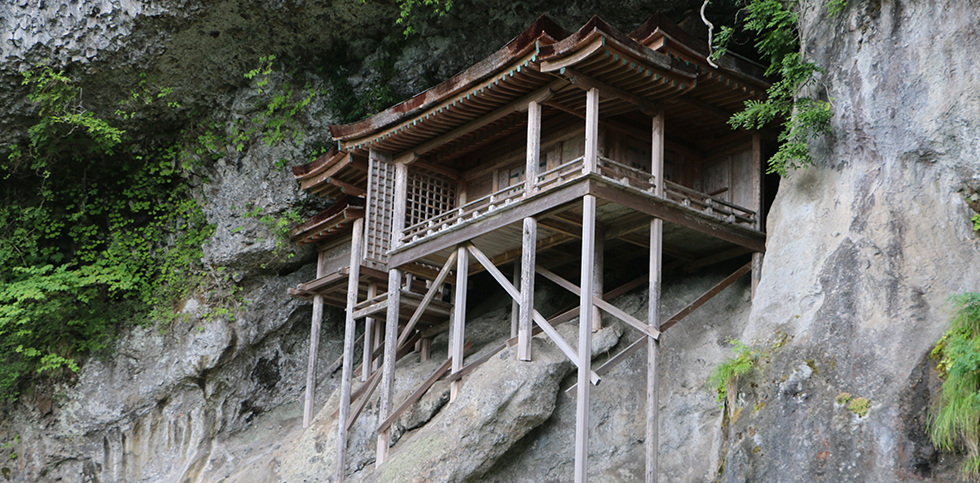 Mt. Mitoku
Mt. Mitoku and Misasa Onsen are designated as Japan Heritage Sites since 2015, as the area has its unique view of the world "rokkon shojo" (purifying six roots of perception; eyes, ears, nose, tongue, body, and mind) and "rokkan chiyu" (healing six senses; sight, hearing, taste, smell, touch, and spirit). Mt. Mitoku, founded in 706 by En no Gyoja, is said to be the mountain where gods and Buddhas live. This mountain is the core behind the story of "rokkon shojo", where Monks and pilgrims used to go on a pilgrimage after purifying their bodies and spirits in Misasa Onsen, the place for "rokkan chiyu". Nowadays, it is still possible to walk on the same road as our ancestors did and experience a new pilgrimage to Mt. Mitoku. Especially, the Nageiredo Hall, National Treasure, is the symbol of Mt. Mitoku's belief, and this temple was built inside a cave on the mountain cliff, which surprises every visitor. Climbing step by step to the temple purifies the six roots of perception and remains an unforgettable experience.
Address:
1010 Mitoku, Misasa Town, Tohaku-Gun (Sanbutsu-ji Temple, Mt. Mitoku)
Access:
by car: 35minutes from Kurayoshi Station
by bus: 35 minutes from Kurayoshi Station, Operated by Hinomaru Jidosha
COURSE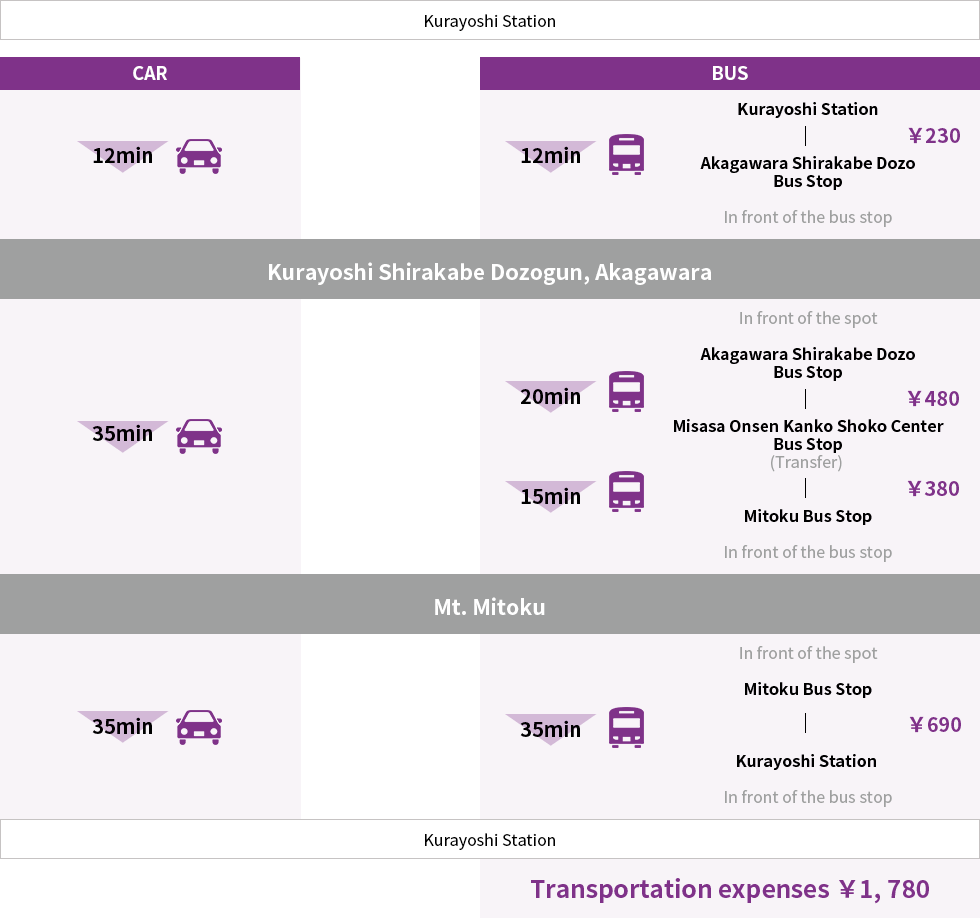 In JR Kurayoshi Station Tourist Information
Basic Information

| | |
| --- | --- |
| Address | 1F, 195 Agei-cho, Kurayoshi City [MAP] |
| Tel | +81-858-24-5370 |
| E mail | info-kokusai@nashinohana.com |
| Hours of Operation | 9:00 - 17:00 |
| Holidays | Closed on New Year Day |
| Official HP(English) | https://tottori-iyashitabi.com/en/ |
Service
Multilingual Support
English:Full-time
Wi-Fi
Yes
Internet PC
None
General Tourist Information
Giving information only
Transportation
Giving information only
Accommodations
Reservation service
Other Services
Bicycle rental, Mobile Wi-fi router rental, Umbrella rental
Surrounding facilities

COIN
LOCKERS

FOOD

SOUVENIR

STATION

BUS

EXPRESS
BUS

TAXI

CAR
RENTAL