TOTTORI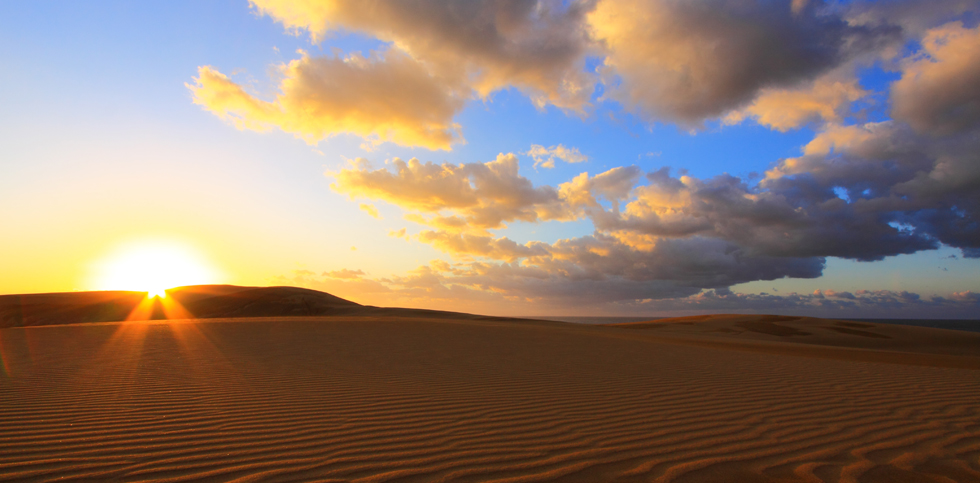 Tottori Sand Dunes
Located in the San'in Kaigan Geopark, Tottori Sand Dunes is one of the biggest sand dunes in Japan, extending 16 km from East to West and 2.4 km from North to South.
The rugged terrain is covered with massive dunes, with the highest and the most famous peak called "Uma-no-se", or horse's back, being over 40 m high. Under specific weather conditions, you can encounter various faces of the sand dunes. "Fumon", or wind ripples, are sand patterns created by wind and are the symbolic sight of the sand dunes. You might also find "Saren" where sand grains form a curtain like pattern on the slope. These and other ever-shifting natural beauty of the sand dunes will surely capture your heart.
Address:
2164-661 Yuyama, Fukube-cho Tottori City
Access:
by bus: Hinomaru Bus / Nihon Kotsu Bus / Loop Kirinjishi Bus – "Tottori Sakyu" bus stop, 20 minutes from JR Tottori station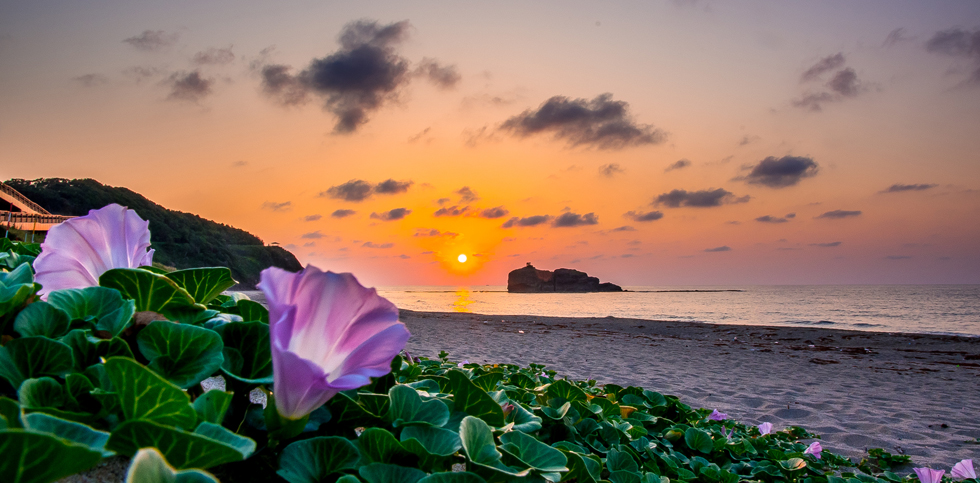 Hakuto Beach/Hakuto Shrine
At Hakuto Beach, a beautiful white sand beach extends like a bow. It's a popular destination for beachgoers in summer. You can also see a community of national natural treasure, Rugosa Rose, nearby.
Enshrined at Hakuto Shrine is the White Rabbit of the famous ancient myth, who is believed to possess powers of match-making and healing of injuries and skin related illnesses. This sacred spot has become quite popular recently – why not buy a wish stone "Musubi-ishi" at the shrine office and pray for your romance?
Address:
603 Hakuto, Tottori City
Access:
by bus: Hinomaru bus – "Hakuto Jinja mae" bus stop, 40minutes from JR Tottori Station
COURSE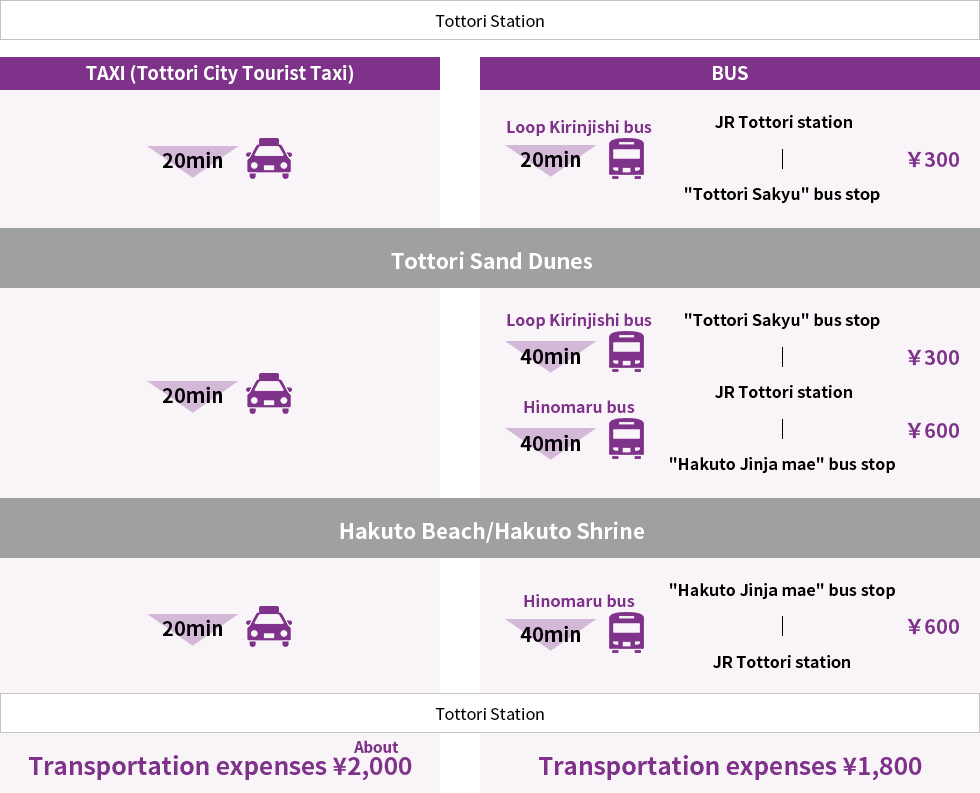 Tottori City International Tourist Support Center
Service
Multilingual Support
English: Full time ,Chinese: Part time ,Korean: Part time
Wi-Fi
Available (Free)
Internet PC
Available (Free)
General Tourist Information
Information only
Transportation
Available (2,000 taxi only)
Accommodations
Information only
Other Services
Surrounding facilities

COIN
LOCKERS

FOOD

SOUVENIR

STATION

BUS

TAXI

CAR
RENTAL